Kids grow so fast which can make paying premium prices for retail clothing a major burden on your budget. If you're a mom looking for a bargain, don't assume outlet stores will help you get high-quality clothing at a discount. Did you know most popular children's clothing brands, including Gap, Children's Place, and Gymboree stock entirely different quality clothes at their outlet stores? Read on to learn how to avoid buying low-quality, "for outlet" clothing and for a better way to save on quality childrens' clothing.
Outlet vs Retail
Many popular brands produce what's called "factory goods"- clothing produced solely for sale at outlet stores. Factory goods usually do not meet the same quality standards that the clothing brand is known for. They utilize low-quality fabrics, less robust stitching, non-functional drawstrings, and cheap buttons or zippers. Leather factory goods, such as shoes, are often produced using low-quality leather. The Federal Trade Commission has no rules for the marketing or labeling these clothes, especially because most outlet stores are refer to their stores are an outlet brand (as opposed to bearing the standard brand signage). The New York Times has noted that this practice has been around since at least 1997.
If you look closely, brands even admit to producing outlet store brands, or lesser versions of their regular inventory. J.Crew Factory's website states that their clothing is " based on (full-price) products sold in previous seasons", aka the clothing is a knockoff of previous authentic styles. The Children's Place company has previously stated that up to 80% of the clothing in their outlet stores is produced specifically for sale in the outlet. Even if the price tag makes the item seem originally expensive, remember that the listed MSRP can be whatever the store wants it to be. It doesn't mean that the item is really worth that much or that it was ever listed for that price at a retail store. FYI- discount retailers such as T.J. Maxx and Nordstrom Rack also label their inventory this way.
How to Avoid Outlet Brands
To avoid buying lesser-quality factory goods, inspect the tags of outlet store clothing closely. Gymboree Outlet brand clothing has group of orange dots for its outlet brand, while the Gap Outlet brand label includes three squares. Next, check out the clothing's price tag. Many brands will have "Factory" printed on the price tag if it's from their factory goods inventory. Factory indications can be found on both sew-on clothing labels and attached tags with product descriptions.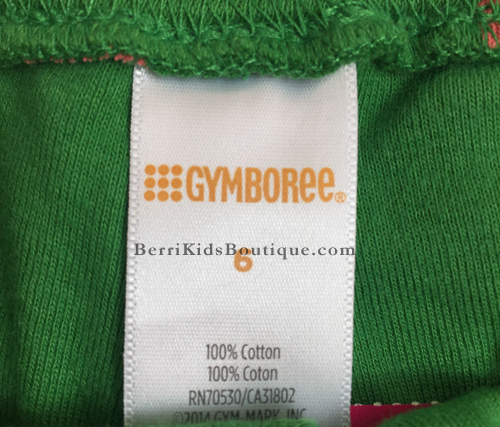 Would you have noticed the outlet store brand markings on this Gymboree tag?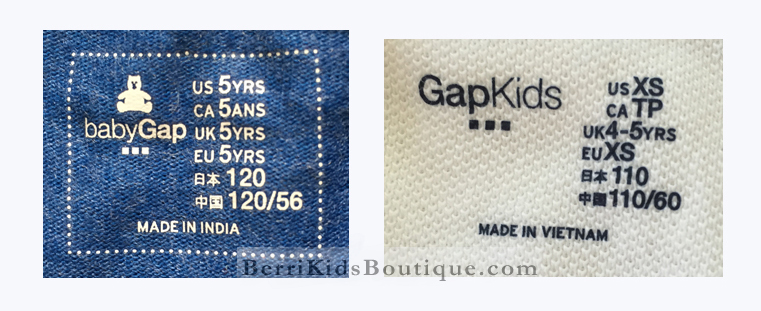 Notice the tell-tale markings of an outlet store brand on these babyGap and Gap Kids tags.
Make sure you know what comparable inventory costs from the retailer to ensure your discount is authentic. Check the brand's website, app, or do a Google image search for the piece of clothing to see how online prices compare. Investigate how many outlet stores the brand has. The more outlet stores around the country or state, the more likely it is that the company produces lesser-quality clothing specifically for their outlet stores.
Savvy moms can also examine the stitched logo of the clothing. Is it different from the usual brand's logo? Finally, when buying brand name clothes on eBay or other resale marketplaces, make sure to ask for pictures of the label if they are not already included.
The Real Way To Get Deals On Children's Clothing
The smartest way to get quality children's clothing is to shop resale. Resale options will carry authentic, high-quality brands but at discounted prices. Many resale items are left-over inventory or never-used gifts.
Berri Kids Boutique carries new, like-new, and gently used children's clothing at sharp discounts. We stock top-quality children's brands and never sell cheap factory goods. Every piece of clothing is inspected to ensure quality, working zippers, no fabric imperfections such as stains, holes, or discoloration. Visit our online store today!