Elevate your child's festive style this holiday season with our exquisite collection of girls' Christmas dresses at Berri Kids Boutique. Featuring brands like Bonnie Jean, Janie and Jack, Hanna Andersson, Gymboree, and Rare Edition, our dresses combine elegance, comfort, and glamour.
This article will showcase these brands and help you find the perfect dress for your little one's magical moments. Join us in exploring the enchanting world of girls' Christmas dresses, where every choice sparkles with holiday spirit. The
Selecting the Best Girl's Christmas Dress: Tips and Top Brands
Little girls adore dressing up for the holidays, turning their dreams of snowy wonderlands into reality. At Berri Kids Boutique, our exquisite collection of girls' Christmas dresses makes those dreams come true.
Join us in discovering the perfect dress that'll transform your little one into the belle of the ball at every holiday gathering, making this season truly magical.
What to Look for in a Girls' Christmas Dress
Before we share some of our favorite brands with you, let's discuss what you should consider when choosing a Christmas dress for your little girl or that special girl on your shopping list. The holiday season offers an array of styles, including traditional, whimsical, classical, and more. Some girls adore the pomp and circumstance of sparkles and twirly skirts, while others prefer a more understated look.
We're mindful of the significant holiday expenses; American families spend an average of $1,300, primarily on gifts, not to mention festive attire. Given how swiftly children grow, investing $50, $100, or more in a Christmas dress can strain your budget. This is where gently used clothing can be a budget-friendly savior.
Remember, besides cost, prioritize style and comfort to ensure your child feels confident and festive all season long. Embrace the diverse holiday styles available and discover the perfect Christmas dress for your little one's unique taste and personality. Make your child's holiday magical with Berri Kids Boutique.

Festive Girls' Christmas Dresses from Popular Brands
Bonnie Jean Christmas Outfits: Shimmering Elegance
When it comes to capturing the essence of Christmas elegance for your little one, Bonnie Jean is a name that shines bright. Their Christmas outfits, available at Berri Kids Boutique, are a testament to shimmering grace and timeless charm.
Bonnie Jean's holiday dresses are a celebration of intricate details, festive motifs, whimsical patterns, and premium fabrics. Picture your little one adorned in velvet and adorned with sparkles, embracing the holiday spirit with themed outfits that bring the magic of Christmas to life.
With Bonnie Jean, every moment becomes an enchanting memory. Explore the enchantment of Bonnie Jean's Christmas outfits and ensure your little princess dazzles and delights throughout this holiday season.
Janie and Jack: Timeless Christmas Elegance
Regarding Janie and Jack, "timeless elegance" perfectly defines their Christmas dress collection. These Janie and Jack Christmas dresses and holiday outfits, featured at Berri Kids Boutique, epitomize classic grace.
With intricate detailing, luxurious velvet, and quality craftsmanship, these dresses will make your child shine this holiday season. Explore the sophistication of Janie and Jack holiday dresses and ensure your little one is the epitome of charm.
Hanna Andersson: Comfort and Style Combined
Discover the perfect blend of comfort and style with the Hanna Andersson Christmas dress collection at Berri Kids Boutique. Hanna Andersson is renowned for prioritizing your child's comfort without compromising on fashion.
Their Christmas dresses epitomize this ethos, ensuring your little one feels both cozy and fashionable during the festivities. Explore the various Hanna Andersson Christmas dresses and let your child easily revel in the season's joy.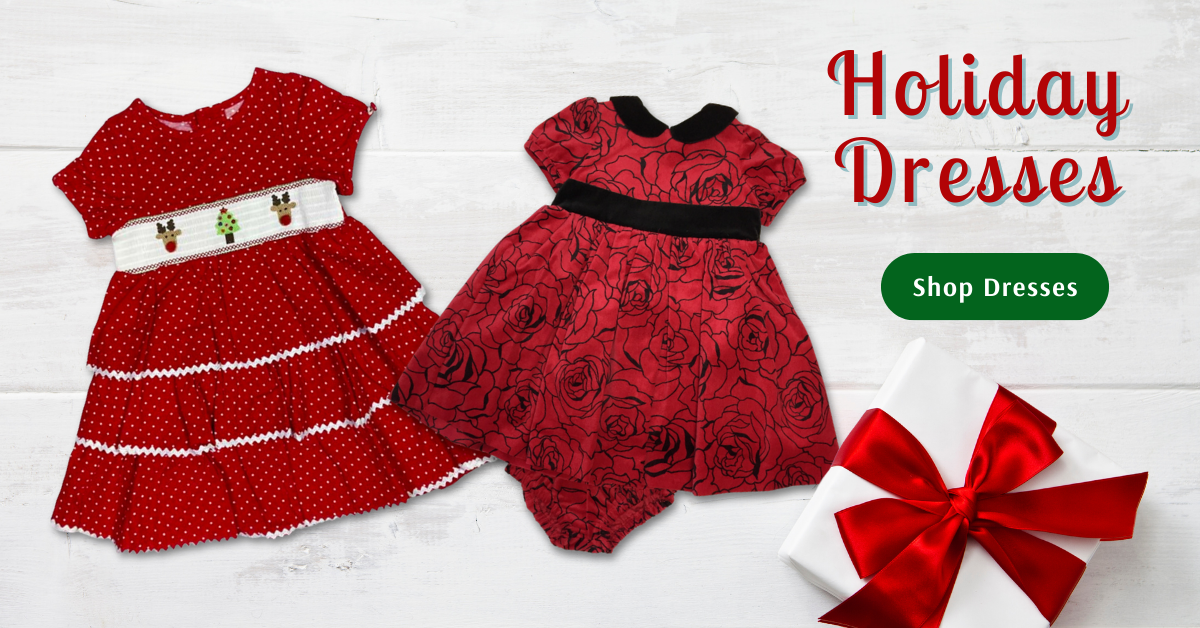 Gymboree: Fun, Festive, and Traditional Christmas Dresses
Gymboree is renowned for its fun and festive children's clothing, and their Christmas dresses are a testament to this tradition. At Berri Kids Boutique, we take pride in showcasing Gymboree's holiday dress collection, designed to enhance your child's holiday celebrations.
Gymboree offers a wide range of styles, from traditional plaid to gingerbread, Fair Isle knitting, and more. Your little one can celebrate the season in their unique way, whether it's with a Nutcracker-inspired dress, a cozy Christmas cabin theme, or attire inspired by the beloved carol "Silent Night."
With vibrant colors, playful patterns, and impeccable craftsmanship, Gymboree's Christmas dresses are guaranteed to bring smiles to little faces. Explore the whimsical world of Gymboree and let the holiday spirit shine brightly in your child's heart.
Rare Edition: Exclusive Christmas Glamour
Prepare to enchant the holiday season with Rare Edition's exclusive Christmas glamour. At Berri Kids Boutique, we present a Rare Edition Christmas dress collection that embodies opulence and sophistication.
These dresses boast intricate details and luxurious fabrics, promising to elevate your child's presence during festive gatherings. Discover the allure of Rare Edition and create unforgettable memories of holiday elegance for your little one.
Dressing Up the Magic of Christmas
In the world of holiday fashion for little ones, the enchantment is boundless. From Bonnie Jean's shimmering elegance to Janie and Jack's timeless charm, Hanna Andersson's comfort and style, Gymboree's fun festive and traditional options, and Rare Edition's exclusive glamour, Berri Kids Boutique curates the finest gently loved girls' Christmas dresses for your princess.
To make this season more budget-friendly, explore pre-owned options. Embrace the spirit of the holidays and visit Berri Kids Boutique today to make your child's Christmas truly magical.