Posted by Jeannette Moore on Apr 23rd 2016
Now that the days are getting longer and warmer, our kids want to play outside more. The beautiful weather is conducive to hiking, biking and playing ball at the park. It's a great thing to have our kids want to play outside in this beautiful weather because it can be a challenge to get them off the electronic devices! However, getting the stained children's clothes clean once the kids have come in for the day can be a chore!
Years ago, I saw a woman named Linda Cobb on Oprah, wowing the audience with her economical and ecofriendly tips for cleaning just about everything. I bought her bestselling book, Talking Dirty With the Queen of Clean after seeing her on T.V. and refer to her book still! She has all kinds of tips for stain removal tricks! With some helpful tips on how to remove stains, you'll be getting those spring and summer clothes clean again and looking great in no time!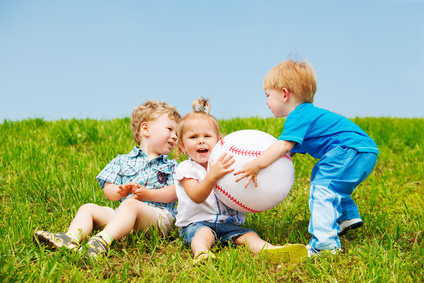 •Mud Stains - One of the most common kids' clothing stains is mud. My kids went to an outdoor summer camp last year where they played in creeks all day! Great fun for kids! Hard to clean up their clothes! To easily clean off mud stains, let them dry first! This seems counterintuitive, but once the mud is dried, it can be brushed off, scraped off with a plastic knife or even vacuumed off! Rub a liquid detergent onto the stain and let it soak for 15 minutes. Rub the stain with your fingers every 5 minutes or so. Then, wash.
•Grass Stains - With baseball and softball season, come many grass stains! We need a stain removal trick to help us remove these kinds of stains! Dampen the stain and then sprinkle with a meat tenderizer! Let sit for an hour. Then, wash in hot water and let air dry. Another cleaning trick for grass stains is using rubbing alcohol. Put the stained area over a towel, stain side down. Dab rubbing alcohol on the back of the grass stained fabric with a rag. Then, rub a bit of straight laundry detergent onto the stain. Let sit for 30-60 minutes. Then, wash as usual.
•Ice Cream Stains - Spring and summer call for lots of ice cream for kids! For ice cream stains on kids' clothes, rinse out, apply a stain remover like Shout, and then soak in cool water with a few drops of liquid detergent before washing as usual.
•Cleaning and Deodorizing Shoes - Sweaty feet on hot days can make shoes stinky! To make kids' shoes smell fresher, sprinkle baking soda in shoes. Place in a plastic bag and freeze them one or 2 nights! Defrost shoes and shake out the baking soda before wearing again.
•Cleaning White Canvas Shoes - To keep white tennies white, apply a paste of dishwashing detergent mixed with hot water to shoes. Soak for 30 minutes. Scrub with a toothbrush and rinse well. Let shoes dry in the sun. You can also apply several coats of spray starch to shoes before wearing again to protect them from future stains.
•Scuff Marks on Vinyl or Plastic Shoes and Sandals - To clean vinyl or plastic shoes and sandals, apply lighter fluid to stains outside. Be careful to dispose of the rag or paper towel that you used to apply the lighter fluid!
•Fruit Based Stains - Lemon juice is good for removing the delicious fruits of spring and summer from clothes. Apply lemon juice directly to the fruit stain. Soak for 30 minutes and then wash.
•Tea, Pop and Kool-Aid Stains - Club Soda is your friend! It can help in removing tea, pop and Kool-Aid stains on clothes. It's helpful to get at the stains as soon as possible. Pour on the club soda, and blot off with a napkin. Club soda can even help remove old stains.
•Keeping Whites White - You can make your own bleach alternative! Mix 1/4 cup of lemon juice and 1/4 cup of white vinegar in a gallon of warn water. Soak clothes in this mixture for 15 minutes before laundering as usual.
Hopefully, these stain removal tips will help you keep your kids' clothes clean and wearable! Sometimes, after a day in a creek, clothes are never the quite the same again. For this reason, it's a great idea to buy gently used kids' clothes at a place such as Berri Kids Boutique! If you didn't spend a fortune on the clothing in the first place, it's not as painful if the clothes do in fact get damaged in all the fun activities of spring and summer.
Happy spring and summer! Enjoy the beautiful long days and all the fun of having kids!