Posted by Stephanie Jarrett on Jul 23rd 2021
We've arrived at every parent's least favorite part of summer: preparing to send the kids back to school. While the kids may get excited about new outfits, it's easy for parents to get overwhelmed with the idea of shopping for back-to-school clothes and accessories for their kids. Not only is it expensive, it's simply difficult! Kids grow like weeds, meaning it's nearly impossible to nail down what size back-to-school outfits they need from year to year. What a hassle!
If the idea of helping your child shop for back-to-school clothes makes your head spin, it may be time to simplify your child's wardrobe. Creating a Capsule Wardrobe of interchangeable pieces takes the guesswork out of getting dressed each day and can make back-to-school shopping as easy as 1-2-3!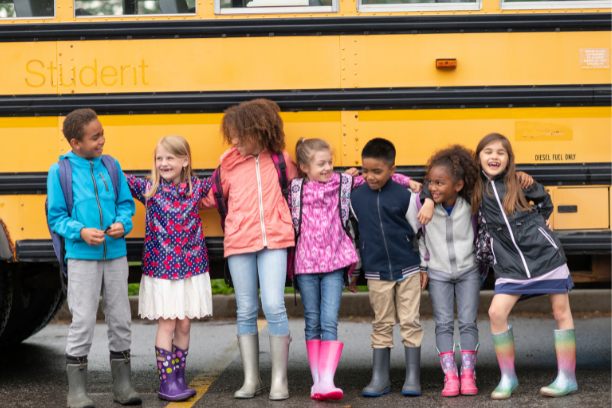 Back-to-School Clothes Shopping by the Numbers
According to the experts at the National Retail Federation, back-to-school shopping is going to hit an all-time high this year. The NRF estimates the average family with students in grades K-12 will spend $890.07 on back-to-school items this year. This estimate is about $25 higher than last year's record. Wow!
Back-to-School Clothes Shopping: Getting the Best Bang for Your Buck
If you're looking to cut your costs while back-to-school clothes shopping this season, this article from Berri Kids has a number of great tips to stretch your dollar. To take the stress out of determining day-to-day outfits for your child, why not build a Capsule Wardrobe that can be mixed and matched for ultimate ease in getting your child dressed each day, we've created this simple guide for you!
Building a Basic Capsule Wardrobe for School-Aged Kids
A capsule wardrobe is one with a finite number of clothes that all can be worn together. To create a capsule wardrobe, start with a theme. The theme can be anything- a color, a print, or an article of clothing. Then, make everything you buy match that one item. For example, your theme might be red. Any item of clothing you purchase should complement or match your red item.
The question is, when building your child's capsule wardrobe, what is the ideal number of each item of clothing that you should have?
To keep clutter and chaos in your kid's closet to minimum, start here:
Each child should have:
8-10 shirts
4 pairs of pants
4 pairs of shorts
For girls, 2-3 dresses and skirts
3 pairs of shoes: sneakers, slip-ons, and boots (if needed)
1 pair of dressier shoes (if needed)
1 lightweight jacket
1 heavy jacket (this may not be necessary if you live in a warmer climate)
There may also be additional items you wish to add to your list, such as cardigans or tights for girls. Add as many as you see fit, but keep your theme in mind. If your child plays sports, or has to dress a certain way on PE days at school, you may consider adding a few athletic pieces to your child's wardrobe.
Use these guidelines to help create a wardrobe for your child that is easy to wear and easy on your wallet!
Below is the checklist you can print out for your next back-to-school shopping trips. If you'd like the PDF version, join to our newsletter. Just add your email to the subscription box at the end of this page, we'll send you a free download of our checklist and much more!